We invest in a professional staging consultation & professional phtography as part of our luxury marketing strategy for your home.
Here's why:

Staging a home is the best preparation a seller can make. The way you decorated your home for your own enjoyment and the way you present your home to appeal to the most buyers are very different. We provide both a complimentary staging service and a professional photographer to create immediate buyer interest. Staged homes sell 90% faster and for a 6% or higher price than un-staged homes. Explore the before and after photos below to see some of our clients' incredible transformations!

More Staging Statistics

Realtors who work with buyers say most buyers are willing to offer more money for a staged home compared to one that is similar but not staged.
45% of buyers say it will positively impact the value of the home if it is decorated in a current and neutral style.
The National Association of Realtors (NAR) survey found that the longer homes stay on the market, the further their price is reduced

What will the return on investment look like for my home?
Our goal is to make sure you get the best price for your home. While many factors contribute to your home's worth, including features, neighborhood and nearby property sales, one thing that our experience has told us is that staging always increases your home's value and buyer interest. We have tracked our sales, with and without staging, and the data is clear. Staged homes sell for more than un-staged homes.
Our Marketing Plan includes the cost of a Staging Consultation performed by our professional Stager who will provide you with an actionable plan for presenting your home to the greatest number of buyers. These suggestions make a significant difference in how your property is viewed online and in-person.
Homeowners have the option to take the staging services further by investing in a higher level of hands-on service and furniture/decor rental from the Stager. These packages yield even more of a return on investment. This graphic shows our current staging results based on our home sales in the current market.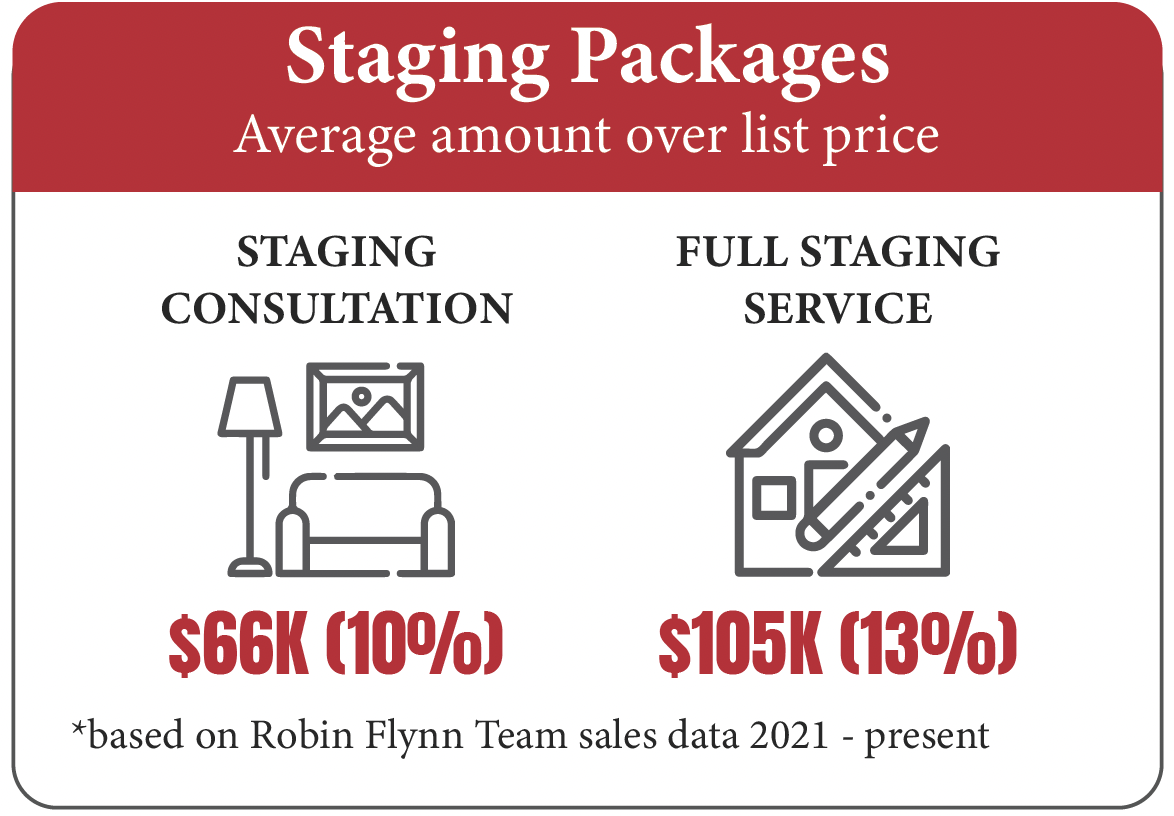 Contact us today to learn how to get started!